Our impact is global and our roots run deep. We're only just getting started.
"Founded in 2015, the iVenture Accelerator is the educational accelerator for student startups at the University of Illinois. The flagship program of the Origin Ventures Academy for Entrepreneurial Leadership in Gies College of Business, iVenture has supported startups that have gone on to create global impact."
If there's one core continuity about iVenture, it is that the program is constantly evolving. The most recent estimates project its reach and impact on more than 270 students, 100 teams, and 40+ fields of study.
Correspondingly, iVenture teams have raised over $100 million, created over 400 full-time jobs, and engaged more than 1,000 experts, mentors, and advisors to guide student startups to success.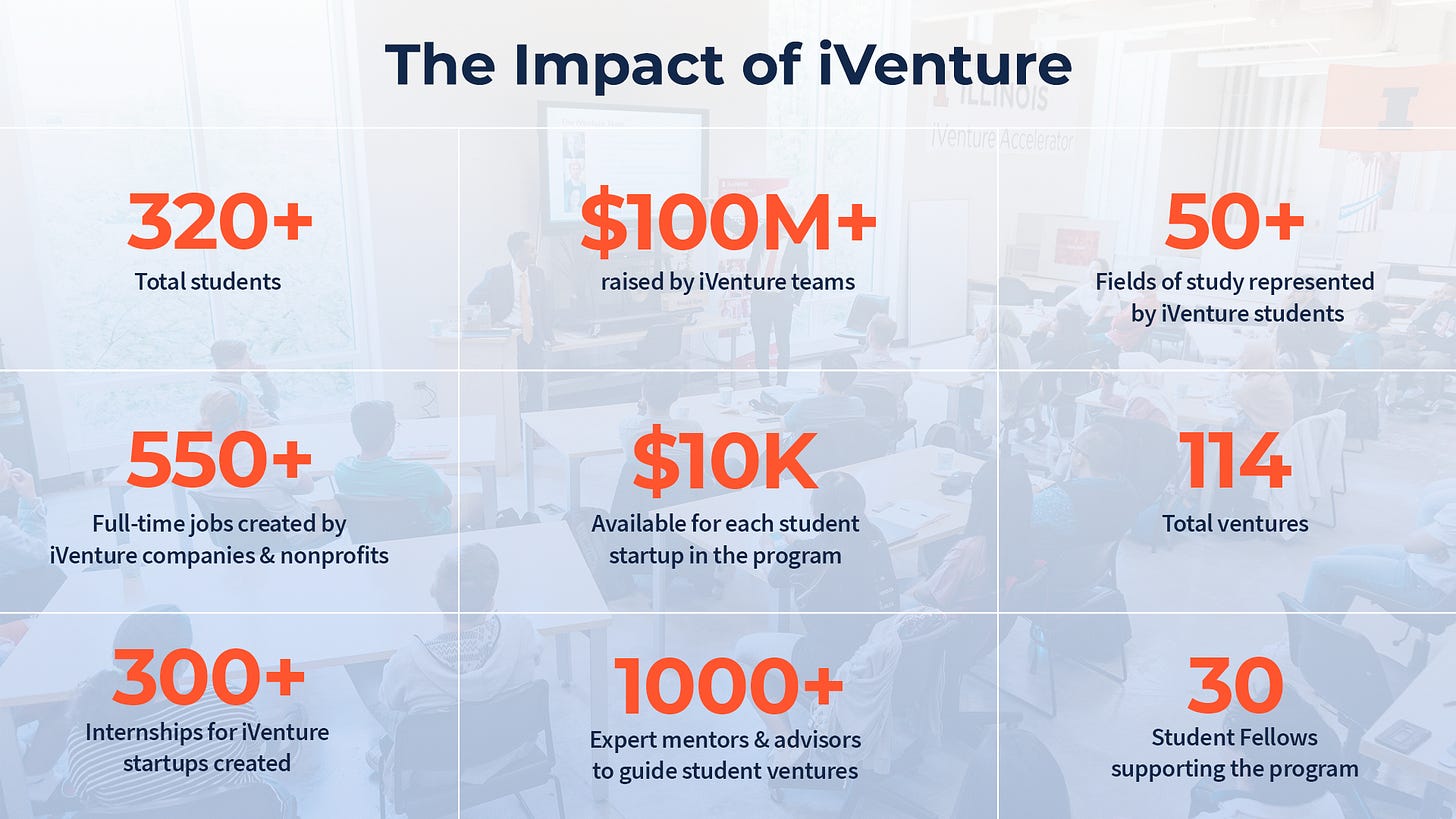 The fervor of this ecosystem can hardly be quantified with metrics, but the achievements of past and present venture fellows shed light on its true, holistic value. In upcoming spotlights, expect to hear from the pioneering paths of our trailblazing alumni teams.
Though much has evolved with iVenture over the last eight years, its focus on being student-centric has remained constant. In fact, the original purpose of iVenture was to serve as a vessel for fostering creativity and provide an alternative to summer internships that may not have been the best fit for students' career interests. In an aim to fill this gap and ameliorate student frustration, iVenture was born as a one-of-a-kind, world-class program in conjunction with several innovative centers at the University of Illinois, including Research Park, Illinois VENTURES, the College of Fine + Applied Arts, the Technology Entrepreneur Center, VentureWell, The School of Social Work, The Grainger College of Engineering, Gies College of Business, and several other on-campus entities and off-campus supporters.
But why exactly does iVenture exist, and what makes it so unique?
Simply put, the accelerator serves to elevate:
Individual learning and development, by tailoring the curriculum and resources on an ad-hoc basis to each person's unique career goals
Venture growth and impact, without taking equity from student startups
The broader entrepreneurial community, by inviting ambassadorship of all venture fellows to permeate all areas of campus
A broader and more inclusive culture of changemakers, both on campus and beyond, promoting the mantra:
"More people, more ideas, more solutions, a better world" ~Manu Edakara, program director
The collective fellowship of student entrepreneurs has a rich culture of building successful ventures and cultivating the University's startup ecosystem with generosity of spirit and action, focusing on the following:
Value-wise: making the most of opportunities given, working together to create an open and collaborative space, encouraging diversity, keeping promises, striving for authenticity, being open and transparent, and learning from and helping one another.
Programming-wise: offering an intentional combination of workshops, talks, mentors, advisors, iVenture Coaches, capacity funding, and room for the natural osmotic process of entrepreneurial collaboration.
Over the next several weeks, iVenture's eighth cohort, the largest to ever exist, will undergo the intensities and elations of the summer program, with the goal of honing exceptional presentations to deliver at Chicago Demo Week at the end of July. To ensure that goal is met, the entrepreneurs' agenda will include:
Bootcamp (Weeks 1–2): orientation, programming fundamentals, and clarity and communication around individual and team goals
Build (Weeks 3–7): core topics for summer, including customer discovery, revenue models, and legal issues and workshops and boardrooms
Showcase and Plan (Weeks 8–10): preparation for iVenture Demo Week in Chicago
Preparation for Academic Year (Week 11): continuing the 40-week programming for the rest of the school year
To learn more about the iVenture Program as well as this year's outstanding portfolio, visit our social media (LinkedIn, Instagram, Twitter) and follow this blog for frequent updates and curriculum synopses.