REUSO is an iV8 startup seeking to eliminate single-use waste by maintaining a reusable cup and container platform to be used by large food service providers.
How many times per week do you take out your trash?
Two? Five? Ten?
Perhaps this is primarily a question of the size of your trash can and the size of your household, but it is undoubtedly also a question of the amount of single-use items you consume. Unfortunately, in today's day and age, the accessibility of unpackaged, durable, and multi-purpose products has dwindled below that of cheaply made, disposable ones.

iV8's REUSO, on the other hand, aims to "eliminate single-use waste by maintaining a reusable cup and container platform to be used by large food service providers." Essentially, their "software as a service" model digitizes the leasing, washing, and distribution of a fleet of REUSO-owned containers that partners with festivals and events aiming to reduce their waste. They help customers meet their sustainability goals, give consumers a high-quality experience, and provide operational and packaging inventory insights.
REUSO was founded under the wing of the Technology Entrepreneur Center's COZAD competition, which brought together its three co-founders, Justin Holding, Eva Bugg, and Neil Misak. Over the next couple years, the venture evolved from a university-centric initiative called Illini Box to a commercialized startup geared toward creating a culture of reuse throughout the state of Illinois.
This summer, through the iVenture program, the team plans to take full advantage of the I-Corps workshop series to answer their ultimate looming question: Who should our customers be?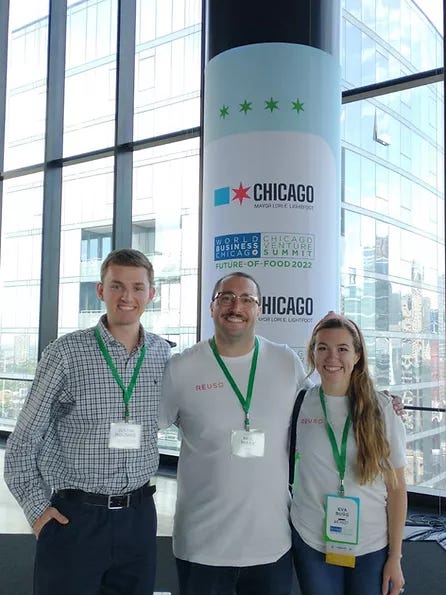 Just one week into their accelerator journey, the REUSO team attended the Chicago Venture Summit alongside 50 other food innovation startups. The crew was accepted as a featured vendor in February and were invited to **operate their reusable containers at the summit months later, just before Holding hopped on a flight to Brazil with his Hoeft Technology and Management cohort. Upon returning from his trip in the wee hours of the morning, Holding was welcomed home with 400 polypropylene (plastic #5), NSF-certified, BPA-free, and PFAS-free reusable containers that needed washing before the event started at noon.
Besides being a perfect excuse to sample West African dishes from AYO Foods and fungi-based nutritional protein from Nature's Fynd, the event was a smashing success and the first stream of revenue for the company. Holding announced on his LinkedIn:
"Together with World Business Chicago and Lettuce Entertain You Restaurants, we served 343 meals in REUSO containers. This prevented 28,891 kg of CO2 from entering the atmosphere and 1,167 cubic feet of material waste from entering the waste stream."
In the coming weeks, they also have plans to test out their system at the Andersonville Midsommar Festival, Eco-Fest, and a variety of events with independent purveyors across Chicagoland, many of which are co-sponsored by the Shedd Aquarium and Andersonville Chamber of Commerce.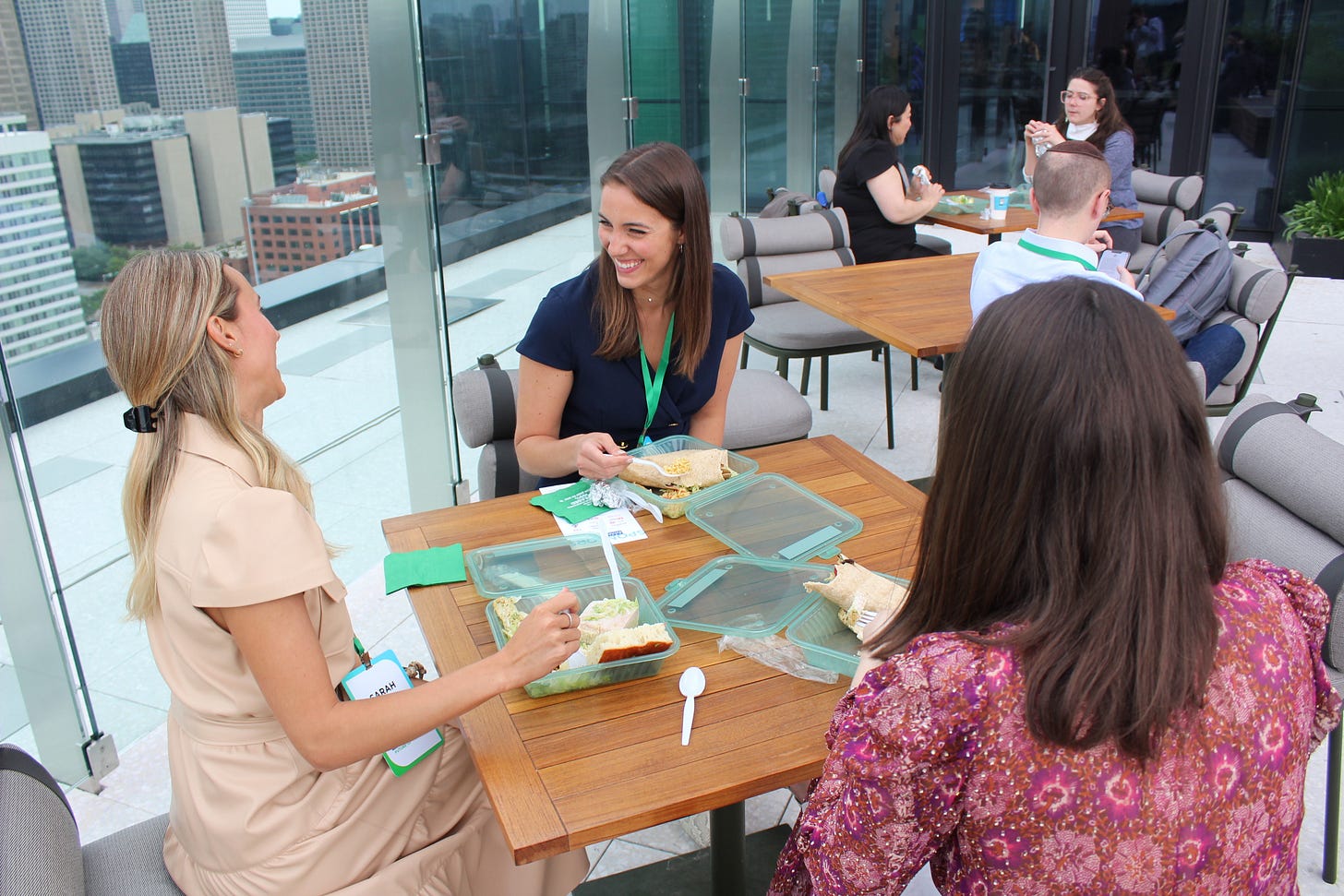 For REUSO, along with many other iVenture student startups, rampant and bountiful opportunities have characterized their experience. While opportunity is the captain of endeavor, this also puts our students in the intimidating position of rejecting leads, concentrating efforts, and creating an intentional course of action for their companies. To guide their efforts, one question we consistently ask all of our founders is "why do you do what you do?" For Holding, many sources of ingenuity have framed his entrepreneurial pursuit.
Personal: Unlike many environmentalists who grew up frolicking in forests or faithfully cleaning up litter, Holding's interest in sustainability was dawdling. Although his father was an avid recycler in his childhood home, it wasn't until making the autonomous move to the University of Illinois that he recognized his passion. His freshman year, he made a keen yet upsetting observation at the Union dining hall. Pre-pandemic, the hall offered both to-go options for packaging food or traditional plateware. Holding realized that most students chose to consume their food out of to-go containers even though they ate inside the dining hall, which left a heaping pile of bulky food containers in the trash can, ironically located directly next to the dish rack, where reusable plates could be set to be cleaned. Chalking this up to student laziness but curious to know more, Holding began to research and reach out to other universities that had implemented systems circumventing this single-use problem through the use of reusable containers.
That's when the pandemic hit. Already knee-deep in this problem, Holding was incredibly frustrated when the dining hall decided to transition meals to exclusively takeout, which meant that for every meal,
"students were given a plastic bag, plastic bottle, plastic clamshells, plastic utensils, and paper containers. Combined, this led to over 5 Million single-use items thrown in the garbage during the Fall 2020 semester alone." (T&M Seminar)
Recognizing that his own trash can was reaching capacity on a daily basis due to this voluminous, single-use packaging, he decided to dedicate two semesters of BUS301, Business in Action, to recruiting fellow students to work on conducting customer discovery research, ideating logistics, and formulating tracking systems to ultimately solve this problem. Ingeniously, he pooled knowledge and talent from the U of I community to commercialize his idea, which would not have been possible without the fortified effort of student researchers, the Institute for Sustainability, Energy and Environment (iSEE), and the Student Sustainability Committee (SSC), among other campus entities. Ultimately, this personal battle with inefficiency combined with the camaraderie of the UIUC community inspired Holding to spearhead this commendable project.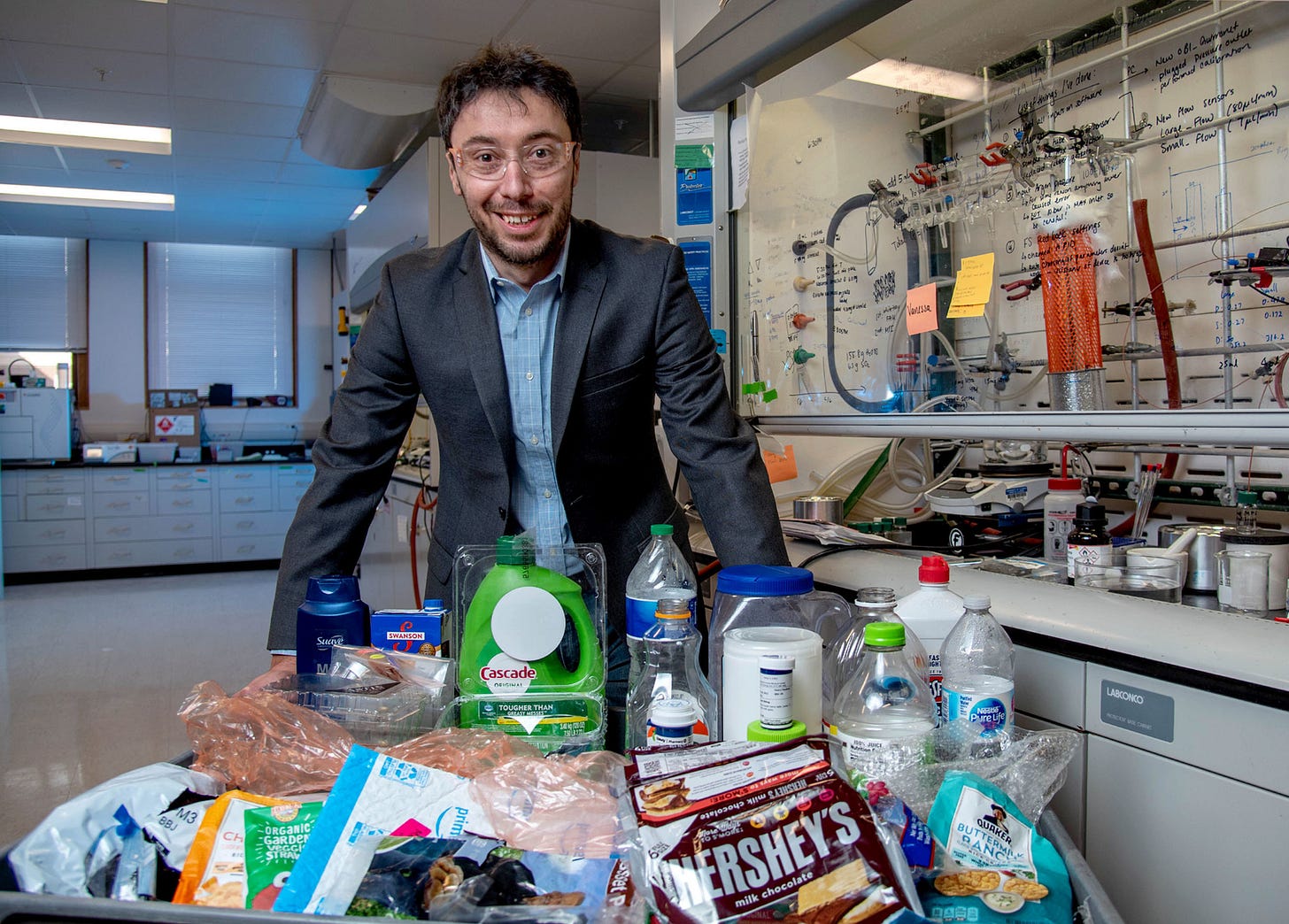 Thought Leader: Sustainability has been a hot button issue, particularly in the past decade. What many of us forget, however, is that this new way of eco-consciousness is not necessarily novel. In fact, some of the most sustainable lifestyle choices and business models can be excavated from recent history. Take the milkman model, for example. Rather than buying plastic jugs of milk on a weekly basis that must be thrown away (or hopefully recycled), the milkman would make his rounds every week to collect and refill glass bottles from households so that nothing ever needed to be thrown away. The same concept existed on a consumer level for Coca-Cola bottles. Customers paid a deposit on the glass bottles they drank their soda from and were able to get money back if they returned them. Logistically speaking, this makes a lot of sense—especially for glass containers which are marginally much more expensive and durable than plastic. Nonetheless, this idea of servicing products and reusing packaging has been lost throughout the age of synthetics and the internet. Alternatively, Holding sees the tried and true milkman as an unintentional thought leader on the expedition to a more sustainable world.
Theory: If personal experience was the ignition to the REUSO flame, circular economic theory is the structural wood set ablaze. Admittedly, Holding was not a tree-hugger before his REUSO adventures began, but once he learned about the severity of waste production, his engineering-mind extrapolated his experience to every facet of his daily life.
"It's not just the dining halls that produce food packaging waste," he thought. "In restaurants that's how it is, in grocery stores too."
Deducing this on an even broader scale, the amount of waste produced by the national (and even more so, global) economy is unfathomable. Intrigued by this conundrum, Holding invested time into researching what is known as the circular economy. Whereas our current "linear" system is contingent on the continual production of products that are inevitably sent to landfills, the circular economy aims to keep materials in their highest-value and eliminate waste in any way possible. This idea is far more integrated than just composting and recycling. Instead, it entails a heavy scrutiny on our production and consumption methods~~,~~ and how we can transition business models to be more aware of the end-of-life of their products. To learn more about this subject, Holding regularly attends meetings for the National Reuse Network and follows Upstream, a multinational non-profit organization promoting Zero Waste. Needless to say, the circular economy rests at the core of REUSO and serves as a guiding light for their decisionmaking.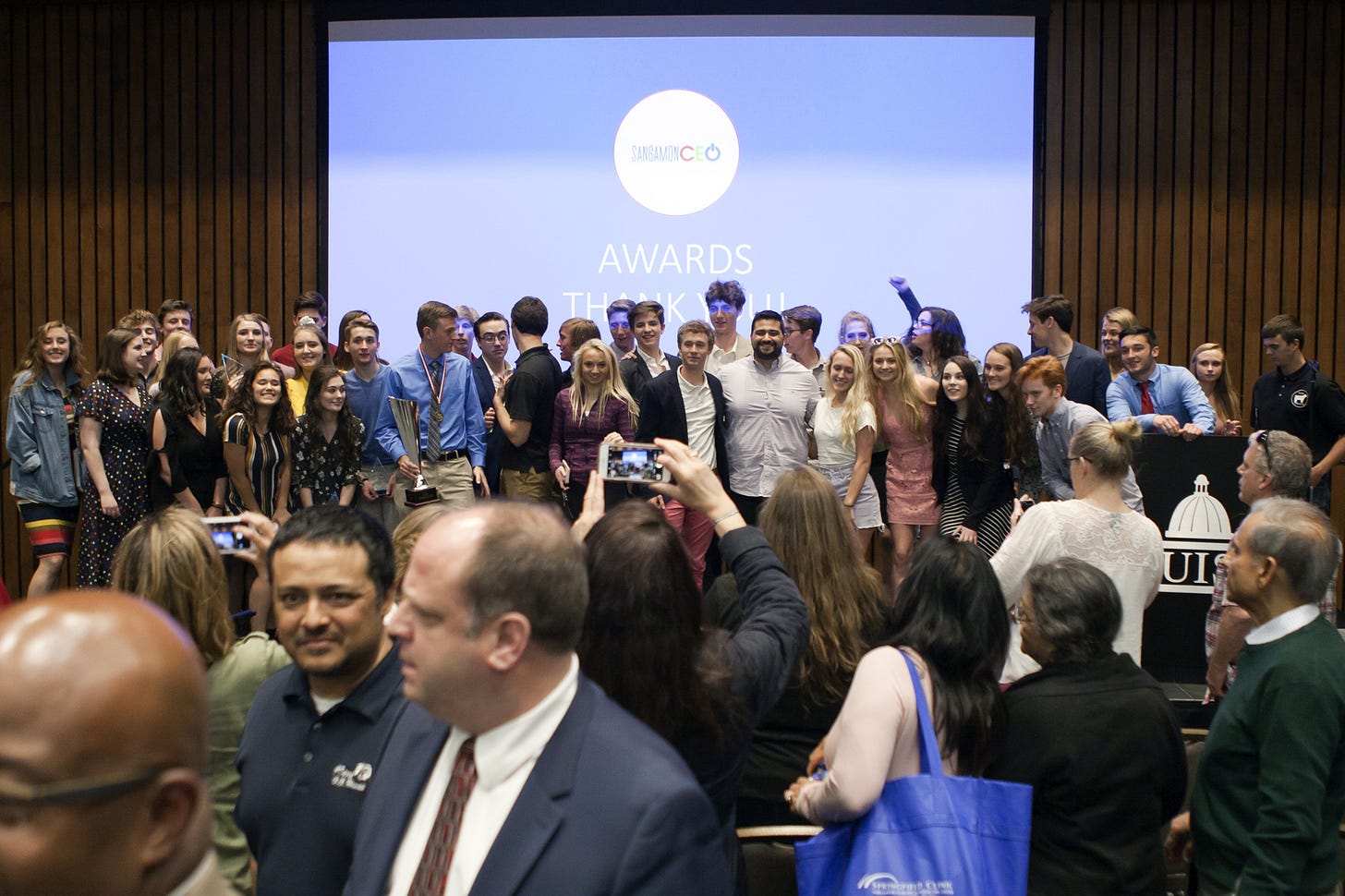 Entrepreneurship & Innovation: From a young age, Holding knew that he wanted to be an entrepreneur. He has watched almost every season of Shark Tank, was nominated Top Salesman in class fundraisers in elementary and high school, and was always the kid hosting lemonade stands, hot chocolate stands, and Instacart-ing and DoorDash-ing in his older years to pick up pocket money. In high school, he even won the Sangamon CEO Shark Tank competition, where he pitched a microwave coozy product that earned him praise and recognition.
Beyond just professional development, this leadership program connected him with Executive Director Nabih Hage, a local entrepreneur with a demonstrated history of success in corporate, startup, and social organizations. Holding held this mentorship relationship to a very high regard and attributes his experience working with Hage to elevating his entrepreneurial ceiling. As he has continued to pursue commercialization of REUSO, inspired in part by food waste reduction innovation companies like Too Good To Go, cheerleading from his professional mentors has helped to thrust that ceiling even higher.
All in all, Justin Holding, founder of REUSO, is an entrepreneur and a changemaker committed to realizing a sustainable future in food packaging. To learn more about him and stay tuned to the REUSO journey, follow them on LinkedIn and Instagram, and keep an eye out for features on the iVenture page.